What is timeblock?
TIMEBLOCK® is a daily natural multivitamin and anti-aging supplement for men and women formulated in the Swiss Alps and grown in the Himalayan mountains.
It helps to fight aging problems by supporting cell regeneration and protection. It contains anti-oxidant properties that help slow down the biological aging process and enhance healthy life.
Clinically shown to lengthen telomeres (the protective caps of our DNA). It is the ultimate multi-vitamin superfood supplement.
It is suitable for vegans and is gluten, lactose and GMO free.
Benefit Includes:
Help to boost biological functions and immune system
Stimulates metabolism, tissue formation and produce energy.
Helps maintain red blood cells
Helps protect cells against damage caused by free radicals
Helps maintain proper muscle function
Support cardiovascular health.
Enhances healthier aging
Helps prevent risk of developing cataracts
Helps support and maintain cognitive functions
Natural anti-aging supplement solution
Supports normal DNA synthesis
How does the technology work?
Timeblock aims to support cell regeneration and protection with a powerful combination of plant based anti-oxidants. These natural polyphenols, vitamins and minerals have the ability to reduce inflammation and to protect the DNA from oxidative stress and so help preserve the fresh youthful appearance of the skin and body.
The plant derived compounds in Timeblock are specially cultivated and organically grown at an altitude of over 3,000 metres in Tibet and Kathmandu due to the fertile, deep soils with perfect pH balance and low CO2 in the air. This combined with a gentle lyophilisation process ensures the highest concentration of active ingredients (up to ten times higher).
Timeblock® Day and Night Complex contains nutrients that have been exclusively derived from premium products such as green tea tips (white tea), barley grass and wheatgrass, algae, grape seeds, shiitake mushrooms, tomatoes and marigold – which are then combined  according to a Precise scientific formula in the laboratory.
The capsules supply the body with plant extracts, vitamins and minerals to support vital bodily functions. Throughout the day, timeblock® nutrients provide energy, radiance and protection against negative environmental influences. At night, you help your body benefit from a healthy, restful sleep, providing it with the strength it needs to face the challenges of the day ahead. It is recommended that you take timeblock® over an extended period, so that the supply of vitamins and minerals to the body remains constant.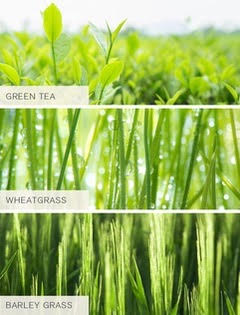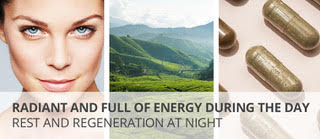 Directions for use: Timeblock capsules are taken daily. 1 capsule in the morning and 1 capsule at evening; take with sufficient water before meals. It is best to take this supplement for an extended period for optimal results
For best results, Timeblock capsules should be taken over an extended period.